Antonetti hadn't said who wanted him.

"The Cardinals," he heard.

"You kind of get that smile inside," Moss recalled. "Really? Holy cow. I wanted to be better (in Cleveland), but if I'm going to go somewhere, could you go anywhere better? No...it's like winning a lottery." (source)
He's definitely trying to win over Cardinals fans...we did trade one of our top pitching prospects for him...
I think he's doing a good job of it.
His walk-off on Sunday didn't hurt.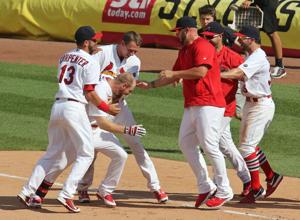 Welcome to the Cards, Moss.