I remember walking from the Megabus to the eL in Chicago after going back to St. Louis to celebrate the Cardinals World Series title in 2011 talking to my dad. There was an announcement. Tony LaRussa had an announcement. Our beloved manager. My dad called it: he's retiring. And he did.
I remember feeling scared. No one can be like Tony. And that's probably true, but I must say Mike Matheny, the Cardinals catcher of the past who was working in the front office, made some people nervous. Boy has he proved them wrong.
I love this article by Joe Strauss: Matheny overdue for some credit.
Here are some of my favorite quotes:
"I don't want to get in the way of what's going on," Matheny said hours before the Cardinals produced their ninth win in 10 games, improving to a preposterous 86-46 despite missing their opening day starter, No. 3 bat and cleanup hitter for most of the season. "This is a group of extremely talented people. I believe the clubhouse guys have a role. The medical team has a role. We all have roles. I don't think it comes together unless everyone is doing their part. I don't take credit for me doing my job."
It says here Matheny is overdue to receive such credit.
This year's team is apace for a fifth straight postseason appearance. Unless the earth opens beneath the Cardinals in September, Matheny will become the first manager in a storied franchise history to take the club to four consecutive postseasons.
The Cardinals haven't suffered a losing month since June 2012. They have become relentless stretch runners under Matheny and been noticeably free of clubhouse intrigue. It's possible this team will win 100 games while scoring fewer than 675 runs.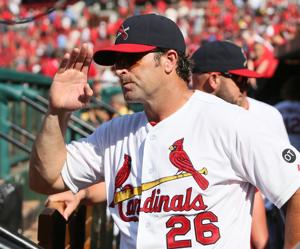 I just like the guy.
P.S. I wish all Cardinals haters had to read this article. No, it was not in the Post Dispatch. It was in USA Today.